Meet the Team
Toya – Team Leader

Toya was born and raised in South Carolina. After graduation from a local high school she attended University of South Carolina where she earned a bachelor of science degree – GO GAMECOCKS. Toya has been in and around the field of dentisry for over 20 years and has been with Willoughby Dental since its opening.
Outside of the office, Toya enjoys running, traveling around the country, and spending time with family. Toya looks forward to meeting you upon your arrival to the office!
Alison – Dental Hygienist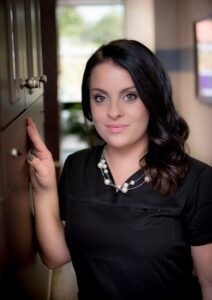 As a South Carolina native, Alison attended and graduated from Greenville Technical College with a dental hygiene degree. She is also licensed to administer local anesthesia and to monitor nitrous oxide.
Outside of dentistry, Alison enjoys spending time with family, crafting, and beach vacationing. Alison also enjoys volunteering around the community. With a passion to help patients better their smile, she is sure to make you feel comfortable during your visit to Willoughby Dental!